MECAIR 500 SERIES – HEADER TANK SYSTEMS
จุดเด่นของ MECAIR 500 SERIES – HEADER TANK SYSTEMS
Cement dust collection
Mining dust collection
Silo/bulk materials handling dust collection
Industrial dust collection
Power industry: protection of boilers and gas turbine intake filter systems
คำอธิบาย
MECAIR 500 SERIES – HEADER TANK SYSTEMS
The patented Mecair "Full Immersion" System consists of a round header tank with fully integrated diaphragm valves, suitable for dust collector filter applications, in particular for reverse pulse-jet filter cleaning of filter bags, cartridges, envelope filters, ceramic filters and sintered metal fibre filters.
The Mecair 500 Series diaphragm valve has been specifically designed to be mounted onto a round header tank.
This valve is exclusively a Mecair design and has a worldwide patent.
The particular design of the Mecair 500 Series diaphragm valve allows you to fully optimise the increased flow rate and performance this valve has to offer, and also the simple way in which you can mount the header tank onto the filter wall, eliminating the excessive weight of the traditional square header tanks.
The Mecair header tanks are manufactured and tested 100%, in accordance with global pressure vessel certificate (CE PED or ASME certified).
Pentair offers complete and fully certified header tank systems specifically engineered for dust collector filter cleaning. We introduced the Full Immersion system with optimized flow rate for the best cleaning results in the market. All our pressure vessels are guaranteed to meet international regulations.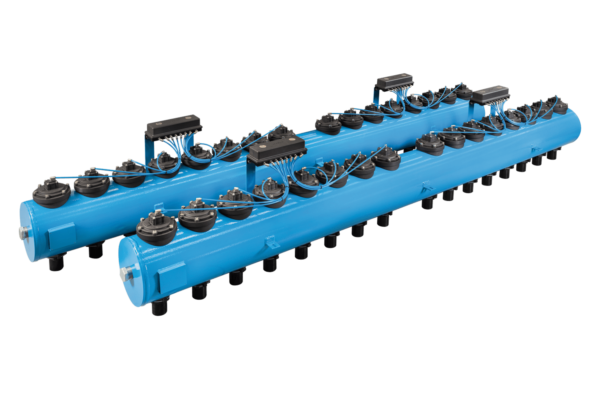 BENEFITS
Full Immersion system for all variations of bag filters (for both noxious and environmental dust management)
Full compliance with global pressure equipment standards (Incl. CE PED, ASME, Russian and Chinese certifications)
Multiple cost savings
-Lower energy use and longer filter life result
-Enhanced lifespan by durable materials (i.e. stainless steel/ aluminum)
Compliance with environmental and health & safety standards
Ease of installation: Complete system ready for use
Custom-engineered non-immersion systems also available
สอบถามข้อมูลเพิ่มเติม

แอดไลน์: @Flutect   FB เพจ : FLUTECH2   E-mail : sales@flutech.co.th
Tel : +66(0) 2384-6060 (Auto) ,+66(0) 2753-2955 (Auto) ,+66(8) 6369-5871 – 3
Fax :+66(0) 2384-5701
สินค้าที่เกี่ยวข้อง
จุดเด่นของ MECAIR FLANGED VALVES 600/700 SERIES
VNP, with integrated solenoid pilot
VEM, with remote pneumatic connection.
จุดเด่นของ MECAIR PARTICULATE EMISSION PROBES
Dramatically reduce downtime
Better overview
Sensitive dependable measurement
Wide operating range
Certified to meet your needs