GAS TURBINE INLET FILTER
MECAIR For Gas Turbine Inlet Filter Application
Experience & knowledge
Environmental compliance
Strong product portfolio & engineered solutions
Superior performance coupled to cost savings
Service & expertise
รายละเอียดเพิ่มเติม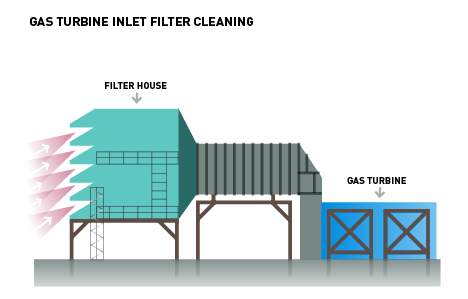 The picture shows the application of gas turbine dust collectors to protect the air inlet of combined cycle gas turbines against the potentially devastating effect of dust particles
GAS TURBINE INLET FILTER
Prevent dust particles from entering your (customer's) combined-cycle gas turbine to increase uptime and extend turbine lifetime. Our reliable components and solutions efficiently clean your dust collector filters.
BENEFITS
Gas turbine intake filter systems protect valuable equipment
– Reverse pulse jet air keeps dust collector in optimum working condition
Experience & knowledge
– Leading technology since 1935
Environmental compliance
– Occupational health & safety
– Reduced emissions
Strong product portfolio & engineered solutions
– From valves and electronics to custom-made complete header tanks
Superior performance coupled to cost savings
– Optimized air flow reduces energy consumption
– Extended filter life reduces dust collector operating costs
– Extensively tested valves and components with low maintenance requirements
Service & expertise
– Easily optimize your product performance with our Goco tool
– Quickly replace components from a comprehensive spare parts portfolio
APPLICATIONS
Pentair's Mecair solutions are specifically designed for the reverse pulse jet filter cleaning of Gas Turbine Inlet Filters. Power plants with Gas Turbine Inlet Filters looking for maximum uptime are supported by an optimal filter cleaning process to decrease downtime of the turbine.
APPROVALS
ATEX, CSA, UL, CE, ASME, PED, and other certifications upon request
สินค้าที่เกี่ยวข้อง
MECAIR For Wood and Paper Application
Experience & knowledge
Environmental compliance
Strong product portfolio & engineered solutions
Superior performance coupled to cost savings
Service & expertise